JAS TAKES ON F1 IN SCHOOLS
Once again Jebel Ali School took part in the F1 in Schools global programme. This year we had four, very keen teams taking part and competing against other UAE school teams at the National Finals Event at Yas Marina Circuit in Abu Dhabi. Our teams did a sterling job in professionally representing themselves and the JAS values as they took on over 80 teams from across the UAE – battling it out on the track as well as getting scored on their brand identities, verbal presentations, pit displays and engineering portfolios.
An incredible amount of work goes into these projects over the 6 months leading up to the competition, with students working tirelessly both through the school ECA programme and during their own time on afternoons and weekends. Preparations include allocating roles for each team member, from a team manager, designer and engineer, to a racer and marketeer. The team have to gain sponsorship, design, build and test their car, produce a very detailed portfolio, create professional level pit displays and deliver high level verbal presentations as well as take part in filmed interviews. The scores for all of these elements contribute to the final standings and podium rankings which are revealed at a live Youtube event with all of the teams in attendance at their schools, eager and anxious to hear how they have done and who has done enough to advance into the global competition.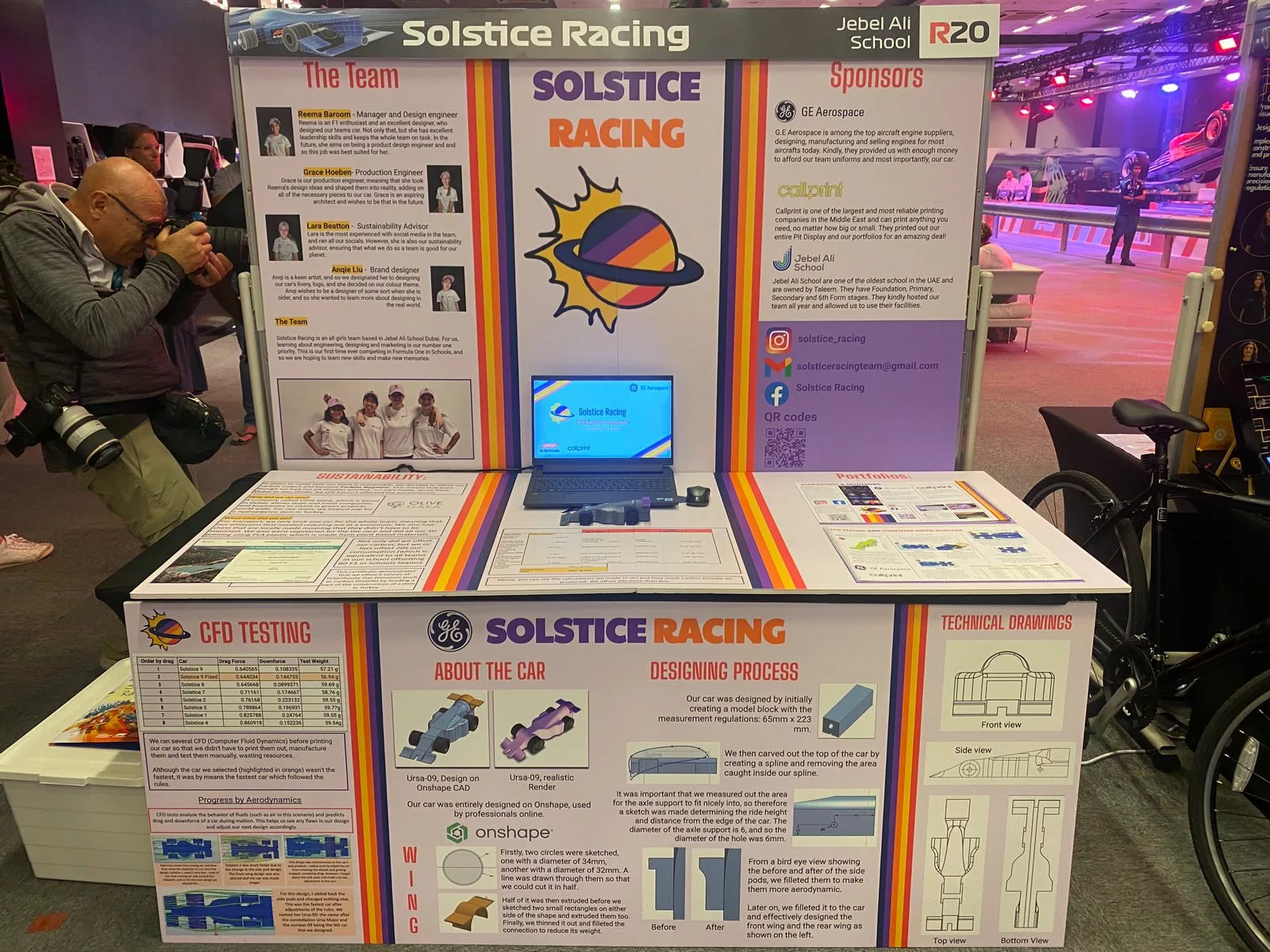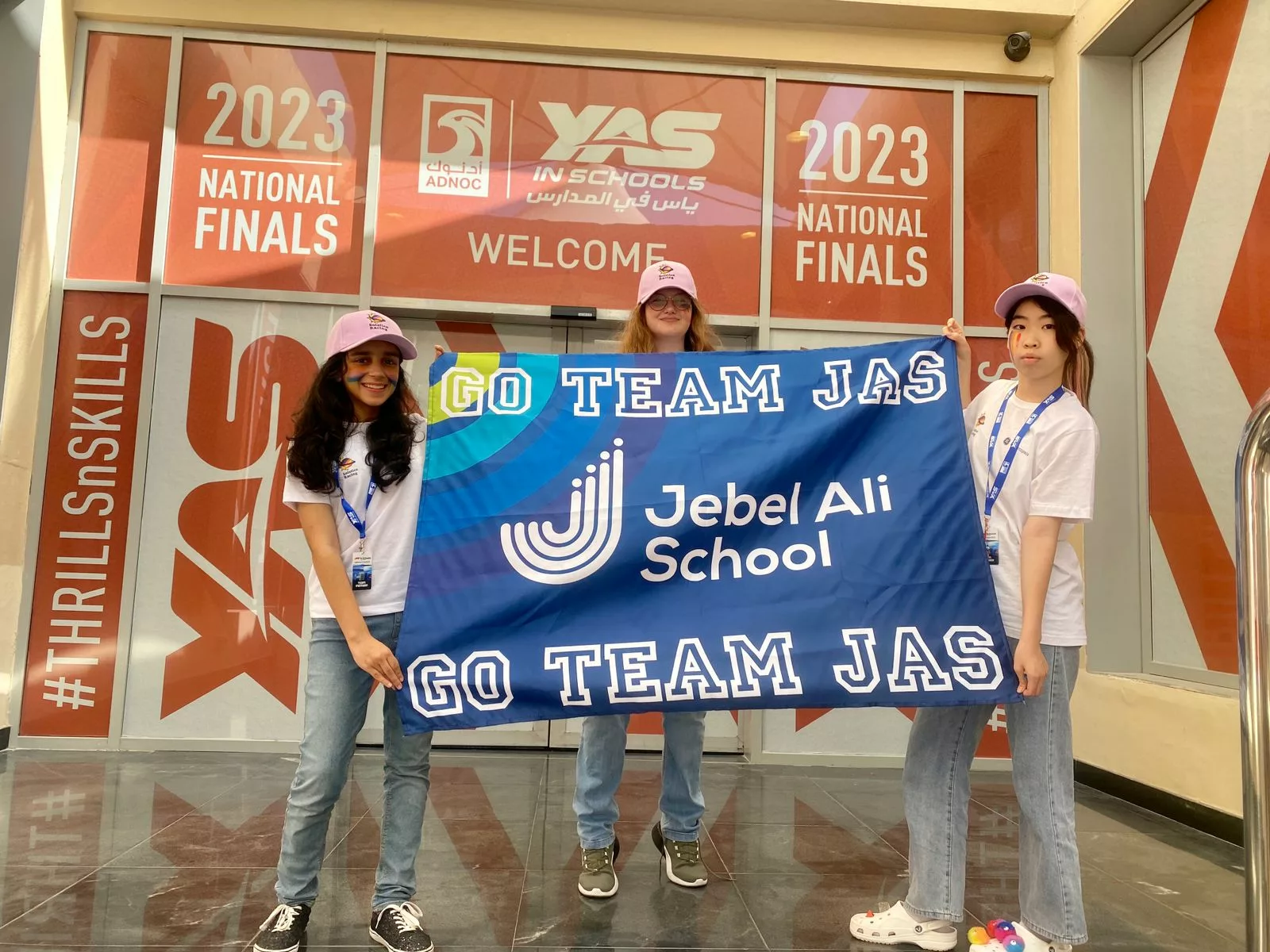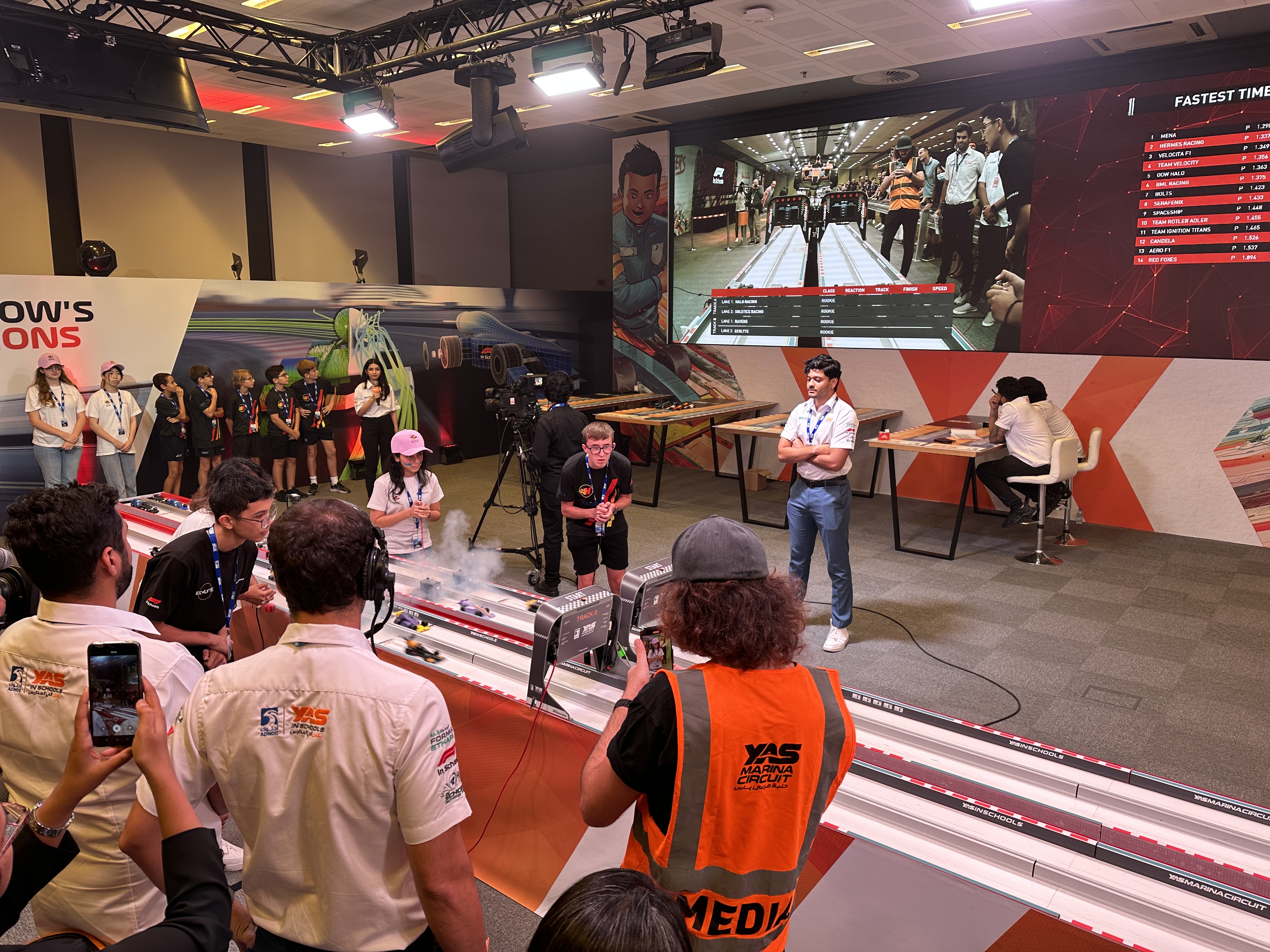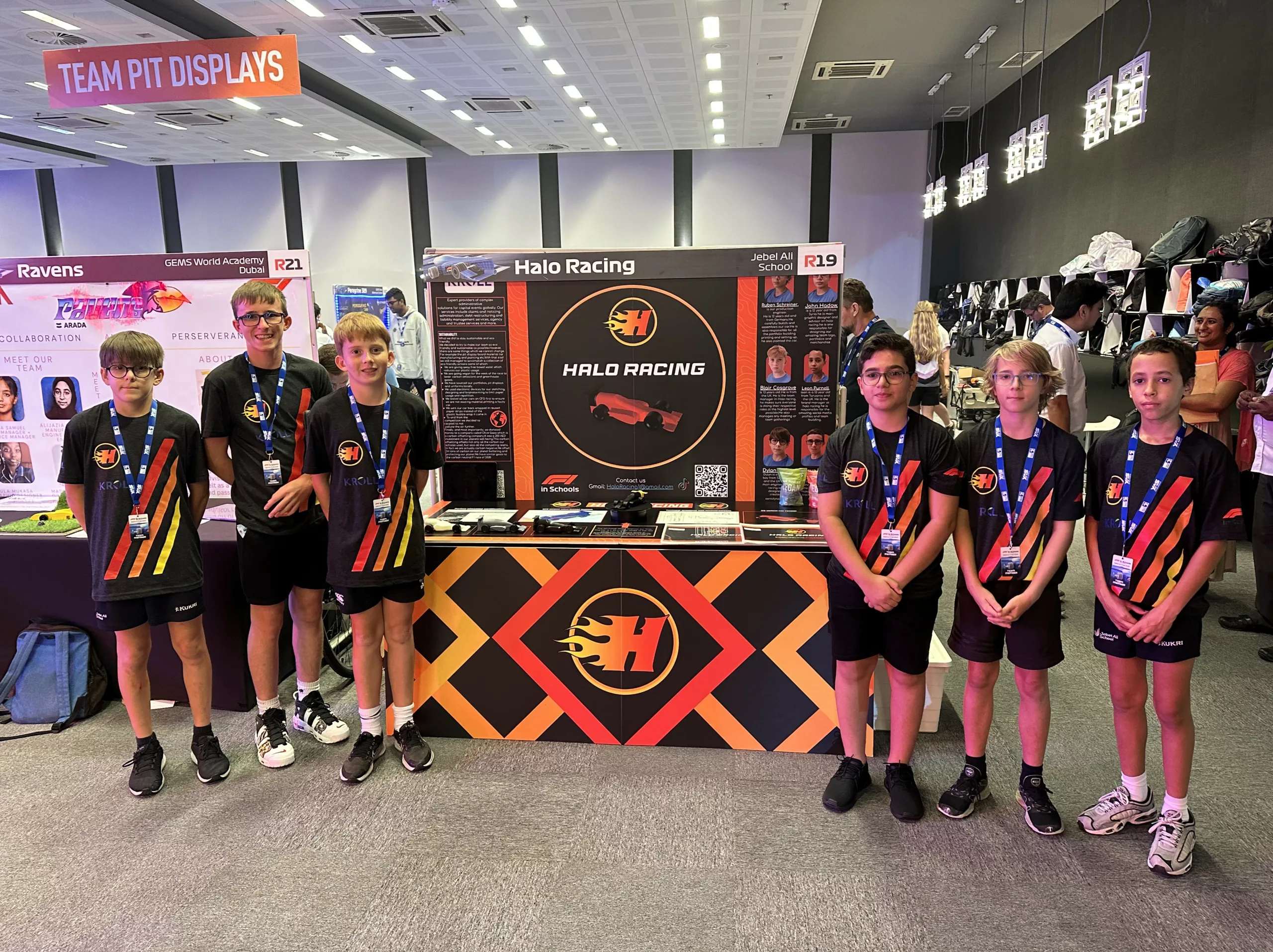 In the professional category, our Year 11 Velox Racing team made an impressive entrance to the contest as their latest car design, developed with CFD Virtual Wind Tunnel testing, shot to the top of the leaderboard and was crowned the "Fastest Car in the UAE". The team also had a very professional pit display and conducted themselves amazingly well, handling all the pressure of this high profile event. Year 9 Slipstream GP also had a solid day, with good consistency in their car and portfolio elements – they finished in the top 12.
Now over to our Rookies – Halo Racing and Solistice, who maintained and traded podium places with their cars throughout the fierce day of competition. They were commended on their efforts by the judges and placed 3rd (Halo) and 4th (Solstice) in the racing element, whilst Solstice then went on to win the Rookie Verbal Presentation Award and take 3rd place outright on the Roookie podium. Congratulations Solstice!
This year the judges were especially looking for a sustainability focus, and all four JAS teams had united against climate change. They used sponsor funds to calculate the Carbon Footprint of them preparing for, and attending the events for F1 in Schools. @theolivegaea – a carbon offsetting company in Dubai, helped them offset their impact by investing in verified Carbon Credits through a hydro-electric dam project in Turkey. The teams ended up not only offsetting their own carbon footprints, but multiplying their impact by 20x – essentially making the entire 2-day, 80 team event net zero. This additional element highlighted the importance of climate change and our united commitment to it as Jebel Ali School.
We are incredibly proud of all the teams for their achievements and look forward to seeing them learn from their experiences this year and make an even bigger impact at next years event.

Thrilled to share that our school's Inclusion Department is a finalist for the Education Excellence Awards' "Department of the Year"
read more

In June, our inaugural group of Year 9 students headed off to Camp Tsavo in Tsavo National Park, Kenya. The group of 20 students gathered excitedly at the airport with their Camps International T-shirts and JAS trip hoodies ready to put their all into a week of adventure.
read more
Start your Child's journey
Once you've paid your application fee, we'd like you to come and see us. Our Admissions team would be delighted to show you around the school so that you can get a feel for what makes us so special. If you like what you see and hear, the next step would be a formal application for a place.